A real-time transit guide for autistic adults.
Challenge
How might we help autistic adults achieve independence through learning transit etiquettes when
riding public transportation?
Timeline
October - December, 2019 (10 weeks)
​
Role
Product Designer

​
​
Skills
Interaction Design, Visual Design, Ideation, Storyboarding, Prototyping, Research
​
Team
Xue (Miki) Bin, Mehul Shah
By providing autistic adults reassurance before and during their transit ride through the use of location-based and contextual guides, this user group will have the confidence to ride independently to their destination.
Contextual Guidebooks
Besides receiving real-time alerts, users
can review contextual guides, a collection of "handbooks" on public transit etiquettes, before and during their ride to be better prepared for their transit journey.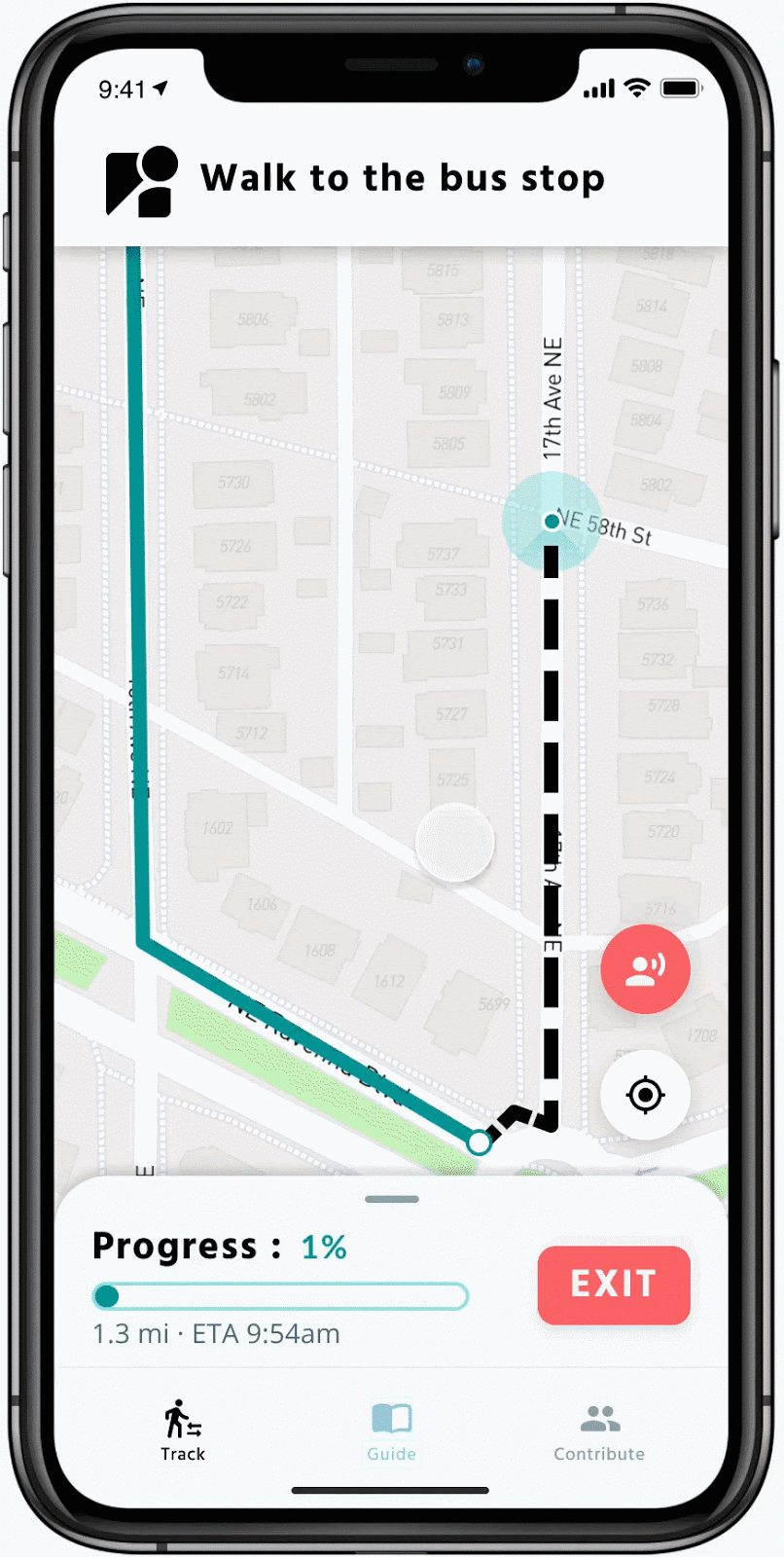 Calling for Help
If in a high-stress situation, users can call for
help from other Infinite Transit users, who will respond to the emergency by assisting with their immediate transit issue.
Sharing Experience
After successfully arriving at their destination, users can share their experience by commenting on guidebooks and submitting posts, growing as a community contributor.
We learned how the mental models of autistic adults require greater contextual information to understand public transit etiquettes, and more importantly, how their misunderstanding of these etiquettes leads to their heightened anxieties and resorting to other modes of transportation. My team and I worked through the design process to address this problem.
Click a section to jump ahead.
"Hey, Cheyenne, autistic adults have limited resources in regards to public transportation, and those resources leave autistic people without the confidence to ride on their own. How might we help autistic adults to achieve independence when riding public transit?"
Autism Spectrum Disorder impairs an individual's ability to communicate and interact, leaving them with heightened social anxieties in many contexts. Being that public transportation not only requires the knowledge of bussing routes and times but also transportation etiquettes, inexperienced riders have little to no confidence in riding. Our goal is to successfully guide autistic adults that are inexperienced riders from their location to their desired destination.
From academic writings, statistics, participant surveys, and interviews with UW Autism Center's psychologists and autistic adults, we learned that the current resources available to our users rendered them unprepared for independent travel both emotionally and practically.
Autistic people are impaired by heightened social anxieties
*Majority of survey participants shared an anxiety related to riding public transit
3.5 Million Americans have Autism Spectrum Disorder
½ Million will enter adulthood in the next year
Autistic people have the same travel demands
Autistic people have limited transportation resources, such as:
Paratransit is a transportation system for people with disabilities, both physical and mental, but these systems have restricted scheduled times and locations, so it's not as reliable.
Transportation Training is a
K-12 program where children can learn the etiquette of riding a bus. Unfortunately, autistic adults have very few resources thereafter.
Relatives Driving; The only other option autistic adults have is their relatives providing transportation.
We began sympathizing with our users' need for explicit instructions and identified a great number of pain points. Having collected our data, we narrowed down to the following pain points to represent our participants' obstacles in their transit journeys.
John, Autistic Adult and Inexperienced Rider
​
Attributes Fascinated by technology,
Easily nervous and disoriented in public settings,
Has only ridden the bus 5 times to get home
​
Goals Wants to reach his new destination,
Wants to learn how to ride the bus throughout the city,
Wants to independently ride public transit
​
Needs Needs explicit instruction to understand vague concepts
​
Pain Points Held back by various obstacles within the journey
Doesn't know what to expect on his public transit ride
Doesn't know how to ask other passengers for help
Panicked, and doesn't know how to get off of his ride
After identifying the critical pain points, we ideated over 90 different concepts. From these ideas, we downselected to three concepts that specifically respond to our users' needs and focused on easing their transit anxieties.
Having presented our initial prototype with one of UW Autism Center's psychologists, we found our concept wasn't testing well. We were trying to accomplish too much in one app. Reflecting on the problem, my team and I developed a new set of concepts that emphasized helping autistic adults learn transit etiquettes before, during, and after their journey.
With the need for explicit instructions, users would be able to reference contextual guides before their commute.
With gaming, users can complete tasks through their commute to learn and build memory on what to expect during their transit journey.
Engaging with the community, users can like, comment, and share posts on and about contextual transit guides.
Solidifying these concepts, we developed wireframes to represent each user flow. The three flows represent how an autistic adult would review contextual guides before, build muscle memory through gamified tasks during, and share their experience with other fellow community members after their transit journey.
Testing our prototype with participants, we quickly gained more insight into our user group's mental model. Because of their need for explicit instructions, simple distractions and vague visuals hinder usability. From this feedback, we reassessed our design response.
All participants expressed their dislike for the cartooned visuals, being both childlike and vague in context.
Gamifying the experience was fun for some, but participants expressed worry about it being a distraction.
Majority of participants, who engage with their community, strongly favor sharing opinions and ideas with others.
Now knowing more, we implemented our insights into one unified design. Comprising elements of the three concepts, we developed the first pass of our location-based guide that allows for community engagement and real-time transit etiquette information.